Johnny Cash, Burl Ives, Shel Silverstein & Roy Acuff Hand Signed Autographs +++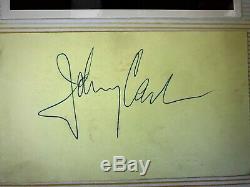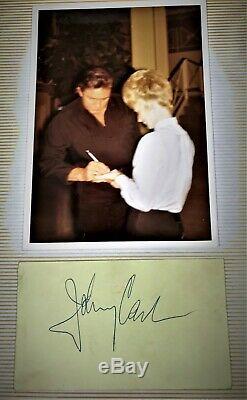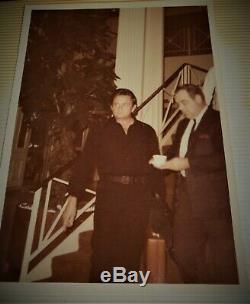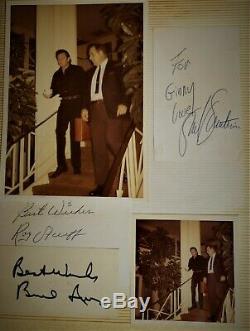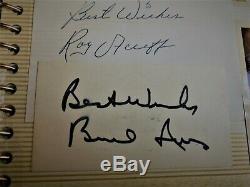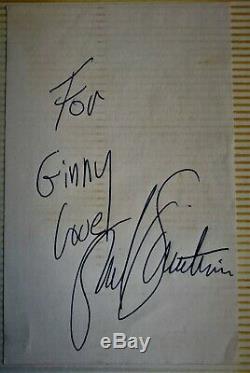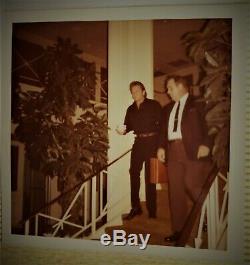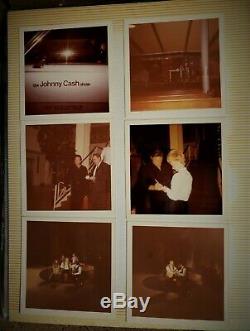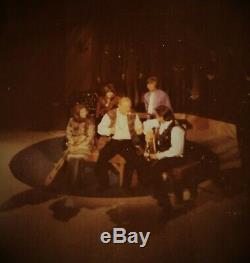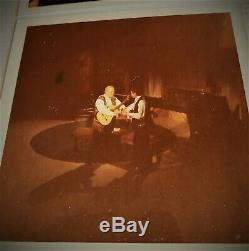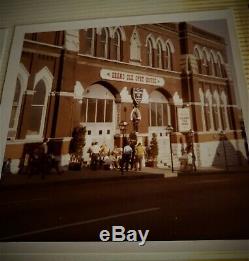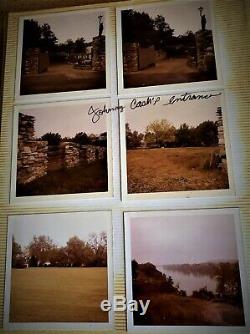 This is a photograph/autograph album from November 1970. This album also includes the hand signed autographs of Johnny Cash, Burl Ives, Shel Silverstein and Roy Acuff. The 96 photographs include 8 of Johnny Cash, 2 of Burl Ives, 1 of June Carter Cash, Bobby Sherman and Melanie; all of which are from the November 4, 1970 Johnny Cash Television Show, Season 2 episode 7.
There are 10 pictures from the Grand Ole Opry, Roy Acuff performing and the Country Music Hall of Fame and Museum. 6 pictures from the entrance to Johnny Cash's estate, 6 pictures of the homes of Brenda Lee & Webb Pierce. 6 pictures from downtown Nashville showing Loretta Lynn's western store, Hank Williams Jr.
Barbecue Pit restaurant, Eddy Arnold's Shop, Roy Acuff Exhibits store, Ernest Tubb record shop. Many other pictures that I would classify under 1970 Americana. Cash; February 26, 1932 September 12, 2003 was an American singer-songwriter, guitarist, actor, and author.
Although primarily remembered as a country music icon, his genre-spanning songs and sound embraced rock and roll, rockabilly, blues, folk, and gospel. This crossover appeal won Cash the rare honor of being inducted into the Country Music, Rock and Roll, and Gospel Music Halls of Fame. Cash was known for his deep, calm bass-baritone voice.
The distinctive sound of his Tennessee Three backing band characterized by train-sound guitar rhythms, a rebelliousness. Coupled with an increasingly somber and humble demeanor.
He traditionally began his concerts by simply introducing himself, "Hello, I'm Johnny Cash, ". Followed by his signature song "Folsom Prison Blues". Much of Cash's music contained themes of sorrow, moral tribulation, and redemption, especially in the later stages of his career.
His other signature songs include "I Walk the Line", "Ring of Fire", "Get Rhythm", and "Man in Black". He also recorded humorous numbers like "One Piece at a Time" and "A Boy Named Sue"; a duet with his future wife, June Carter, called "Jackson" (followed by many further duets after their wedding); and railroad songs including "Hey, Porter", "Orange Blossom Special", and "Rock Island Line".
During the last stage of his career, Cash covered songs by several late 20th-century rock artists, notably "Hurt" by Nine Inch Nails and "Rusty Cage" by Soundgarden. Cash received multiple Country Music Association Awards, Grammys, and other awards, in categories ranging from vocal and spoken performances to album notes and videos. In a career that spanned almost five decades, during which he rose to recording industry icon status, Cash was the personification of country music to many people around the world. Cash was a musician who was not defined by a single genre. He recorded songs that could be considered rock and roll, blues, rockabilly, folk, and gospel, and exerted an influence on each of those genres.
His diversity was evidenced by his presence in five major music halls of fame: the Nashville Songwriters Hall of Fame (1977), the Country Music Hall of Fame (1980), the Rock and Roll Hall of Fame (1992), GMA's Gospel Music Hall of Fame (2010). And the Memphis Music Hall of Fame (2013). Cash was the only country music artist inducted to the Rock and Roll Hall of Fame as a "performer", unlike the other country members, who were inducted as "early influences". His contributions to the genre have been recognized by the Rockabilly Hall of Fame. Cash received the Kennedy Center Honors in 1996 and stated that his induction into the Country Music Hall of Fame in 1980 was his greatest professional achievement. In 2001, he was awarded the National Medal of Arts. "Hurt" was nominated for six VMAs at the 2003 MTV Video Music Awards. The only VMA the video won was that for Best Cinematography. With the video, Johnny Cash became the oldest artist ever nominated for an MTV Video Music Award. Justin Timberlake, who won Best Video that year for "Cry Me a River", said in his acceptance speech: This is a travesty! My grandfather raised me on Johnny Cash, and I think he deserves this more than any of us in here tonight. Burl Icle Ivanhoe Ives (June 14, 1909 April 14, 1995) was an American singer and actor of stage, screen, radio and television. Ives began as an itinerant singer and banjoist, and launched his own radio show, The Wayfaring Stranger, which popularized traditional folk songs. In 1942 he appeared in Irving Berlin's This Is the Army, and then became a major star of CBS radio. In the 1960s he successfully crossed over into country music, recording hits such as "A Little Bitty Tear" and "Funny Way of Laughin'". A popular film actor through the late 1940s and'50s, Ives's best-known film roles included parts in So Dear to My Heart (1949) and Cat on a Hot Tin Roof (1958), as well as Rufus Hannassey in The Big Country (1958), for which he won an Academy Award for Best Supporting Actor.
Ives a great American balladeer is often remembered for his voice-over work as Sam the Snowman, narrator of the classic 1964 Christmas television special Rudolph the Red-Nosed Reindeer, which continues to air annually around Christmas. Ives' "A Holly Jolly Christmas" and "Silver and Gold" became Christmas standards after they were first featured in the 1964 NBC-TV presentation of the Rankin/Bass stop-motion animated family special Rudolph the Red-Nosed Reindeer. Johnny Marks had composed the title song (originally an enormous hit for singing cowboy Gene Autry) in 1949, and producers Rankin and Bass retained him to compose the TV special's soundtrack.
Ives voiced Sam the Snowman, the banjo-playing "host" and narrator of the story, explaining how Rudolph used his "nonconformity", as Sam refers to it, to save Christmas from being cancelled due to an impassable blizzard. The following year, Ives rerecorded all three of the Johnny Marks hits which he had sung in the TV special, but with a more "pop" feel. He released them all as singles for the 1965 holiday season, capitalizing on their previous success.
Sheldon Allan "Shel" Silverstein September 25, 1930 May 10, 1999 was an American writer known for his cartoons, songs, and children's books. He styled himself as Uncle Shelby in some works. He was the recipient of two Grammy Awards, as well as Golden Globe Award and Academy Award nominations.
Silverstein studied briefly at Chicago College of Performing Arts at Roosevelt University. His musical output included a large catalog of songs; a number of which were hits for other artists, most notably the rock group Dr. Hook & The Medicine Show. He wrote Tompall Glaser's highest-charting solo single, "Put Another Log on the Fire", "One's on the Way" and "Hey Loretta" (both hits for Loretta Lynn, in 1971 and 1973 respectively), and "25 Minutes to Go", sung by Johnny Cash, about a man on Death Row with each line counting down one minute closer. Silverstein also wrote one of Johnny Cash's best known hits, "A Boy Named Sue" as well as "The Unicorn", first recorded by Silverstein himself in 1962 but better known in its version by The Irish Rovers.
Other songs co-written by Silverstein include "the Taker" written with Kris Kristofferson and recorded by Waylon Jennings, and a sequel to "A Boy Named Sue" called "Father of a Boy Named Sue", which is less known, but he performed the song on television on The Johnny Cash Show. He wrote the lyrics and music for most of the Dr. Hook & the Medicine Show songs, including "The Cover of'Rolling Stone'", "Freakin' at the Freakers' Ball, " "Sylvia's Mother", "The Things I Didn't Say" and a cautionary song about venereal disease, "Don't Give a Dose to the One You Love Most".
He wrote many of the songs performed by Bobby Bare, including "Rosalie's Good Eats Café", "The Mermaid", "The Winner", "Warm and Free" and "Tequila Sheila". He co-wrote with Baxter Taylor "Marie Laveau", for which the songwriters received a 1975 BMI Award.
Silverstein's "The Ballad of Lucy Jordan", first recorded by Dr. Hook in 1975, was re-recorded by Marianne Faithfull (1979), Belinda Carlisle (1996), and Bobby Bare (2005) and later featured in the films Montenegro and Thelma & Louise. "Queen of the Silver Dollar" was first recorded by Dr. Hook on their 1972 album Sloppy Seconds, and later by Doyle Holly (on his 1973 album Doyle Holly), Barbi Benton (on her 1974 album Barbi Doll), Emmylou Harris (on her 1975 album Pieces of the Sky) and Dave & Sugar (on their 1976 album Dave & Sugar). Silverstein composed original music for several films and displayed a musical versatility in these projects, playing guitar, piano, saxophone and trombone.
He wrote "In the Hills of Shiloh", a poignant song about the aftermath of the Civil War, which was recorded by The New Christy Minstrels, Judy Collins, Bobby Bare and others. The soundtrack of the 1970 film Ned Kelly features Silverstein songs performed by Waylon Jennings, Kris Kristofferson and others. In addition, Silverstein wrote "Hey Nelly Nelly, " a rousing 60s-era folk song recorded by Judy Collins. Roy Claxton Acuff (September 15, 1903 November 23, 1992) was an American country music singer, fiddler, and promoter, freemason. Known as the "King of Country Music, " Acuff is often credited with moving the genre from its early string band and "hoedown" format to the singer-based format that helped make it internationally successful. In 1952, Hank Williams told Ralph Gleason, He's the biggest singer this music ever knew. You booked him and you didn't worry about crowds. For drawing power in the South, it was Roy Acuff, then God. Acuff began his music career in the 1930s and gained regional fame as the singer and fiddler for his group, the Smoky Mountain Boys.
He joined the Grand Ole Opry in 1938, and although his popularity as a musician waned in the late 1940s, he remained one of the Opry's key figures and promoters for nearly four decades. In 1942, Acuff and Fred Rose founded Acuff-Rose Music, the first major Nashville-based country music publishing company, which signed such artists as Hank Williams, Roy Orbison, and the Everly Brothers. In 1962, Acuff became the first living inductee into the Country Music Hall of Fame. The item "JOHNNY CASH, BURL IVES, SHEL SILVERSTEIN & ROY ACUFF HAND SIGNED AUTOGRAPHS +++" is in sale since Tuesday, June 11, 2019. This item is in the category "Entertainment Memorabilia\Autographs-Original\Music\Country".
The seller is "tep8655" and is located in Fort Wayne, Indiana. This item can be shipped to United States.
Original/Reproduction: Original
Industry: Music