Caricaturist Al Hirschfeld Hand Signed Program JG Autographs COA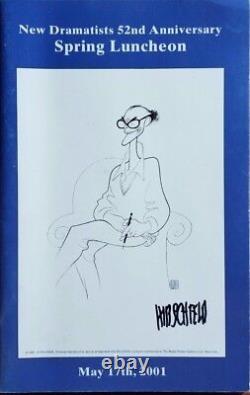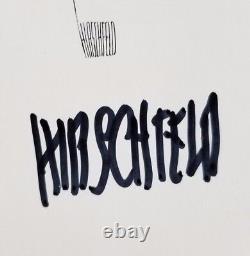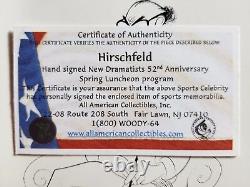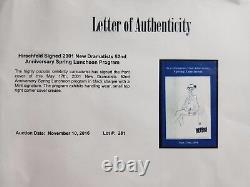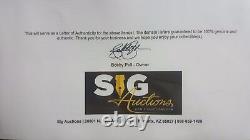 "Caricaturist" Al Hirschfeld Hand Signed Program. This item is certified authentic by JG Autographs and comes with their Certificate of Authenticity. Albert Hirschfeld (June 21, 1903 - January 20, 2003) was an American caricaturist best known for his black and white portraits of celebrities and Broadway stars.
L Hirschfeld was born in a two-story duplex at 1313 Carr Street in St. Louis, and later moved with his family to New York City, where he received his art training at the Art Students League of New York. Following a divorce from Florence Ruth Hobby, in 1943, he married Broadway actress/performer Dolly Haas. Haas died from ovarian cancer in 1994, aged 84. They had one child, a daughter, Nina b.
In 1996, he married Louise Kerz, a theatre historian. In 1924, Hirschfeld traveled to Paris and London, where he studied painting, drawing and sculpture. Hirschfeld's style is unique, and he is considered to be one of the most important figures in contemporary drawing and caricature, having influenced countless artists, illustrators, and cartoonists. His caricatures were regularly drawings of pure line in black ink, for which he used a genuine crow quill. Readers of The New York Times and other newspapers prior to the time they printed in color will be most familiar with the Hirschfeld drawings that are black ink on white illustration board.
However, there is a whole body of Hirschfeld's work in color. Hirschfeld's full-color paintings were commissioned by many magazines, often as the cover. Examples are TV Guide, Life Magazine, American Mercury, Look Magazine, The New York Times Magazine, The New Masses, and Seventeen Magazine. He also illustrated many books in color, most notably among them Harlem As Seen By Hirschfeld, with text by William Saroyan. He was commissioned by CBS to illustrate a preview magazine featuring the network's new TV programming in fall 1963.
One of the programs was Candid Camera, and Hirschfeld's caricature of the show's host Allen Funt outraged Funt so much he threatened to leave the network if the magazine were issued. Hirschfeld prepared a slightly different likeness, perhaps more flattering, but he and the network pointed out to Funt that the artwork prepared for newspapers and some other print media had been long in preparation and it was too late to withdraw it.
Funt relented but insisted that what could be changed would have to be. Newsweek ran a squib on the controversy.