Drake REAL hand SIGNED Vibe Magazine JSA LOA Autographed Aubrey Graham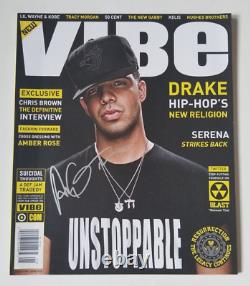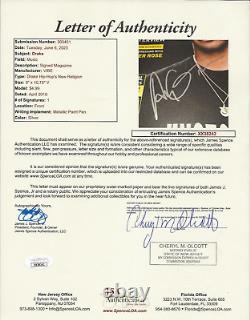 This is an amazing full copy of the April 2010 issue of VIBE magazine that has been signed by legendary rapper "Drake". Drake has personally hand signed this magazine in bold silver sharpie with a large smudge free autograph. Magazine is in great condition.
In addition, the item comes with the Full JSA Full Letter of Authenticity with identification sticker #XX38242. It has received the JSA Full Letter of Authenticity.
Highly sought after by collectors, dealers and hobbyists alike, our standard LOA contains a digital color image of the item and live signature of autograph expert James Spence, which is witnessed by a licensed notary public. It accompanies any item that passes our authentication process and qualifies for the standard letter. A certification label is placed on the item or letter (customer preference) with the corresponding number appearing on the LOA. To maximize the value and interest of your signed collectible, one should have a James Spence Authentication LOA.
Each certification number is uploaded into JSA's exclusive database for 24-hour customer verification access. Please add me to your favorites!!! Welcome to Lifetime Of Autographs, LLC, the place to go for your authentic hand signed memorabilia. I have been dealing in authentic autographs for 20 years. Because our signatures will leave you with no question on authenticity and they are real.
There are no pre-prints, no secretarial signed, no "stock photo" autographs... The autographed item you get will ALWAYS be the exact item in the scan, no surprises. As I add listings daily, you never know just what I will have to offer. You will want to check back every couple days! These signatures have been personally collected through decades of research, hard work, and patience by myself, or by a small group of professionals whom I employ and collect with. My vast knowledge of autographs proves that experience is most important in this hobby. If the item has yet to be authenticated, it will come with my personal and well respected COA. You will not see meaningless COA's from random people, nor photos called proof that are anything but. Don't believe that just because someone has a photo of someone signing or a photo with a celebrity that the autographs they sell are real. Event photos may be shown for added assurance. If you do, I will be willing to price match on Fixed Price listings. The selection of signatures I will be offering is so vast and unique.
You will be seeing musicians from every genre of music, actors, models, political names, artists, inventors, businessmen, sports heroes, porn stars, heroes, the infamous, etc. You just never know whose autograph you may find as I have 1000's of certified authentic signatures to list. Items that have not been professionally authenticated have been acquired in person. While my goal with Lifetime of Autographs is to have most autographs authenticated, it is a very expensive process and not always available for newer celebrities/bands.
I stand by my autographs 100% for the life of the item. For the life of the item.
Feel free to use PSA/DNA? My autographs are real and have been acquired through research and years of traveling. Great care will be taken in packaging your winning item as these items are 1-of-a-kind! After that, we both just need to wait it out and be patient.