Frank Lloyd Wright Hand Signed 5x10 Photo To Apprentice Dated 1958 With 2 Coa's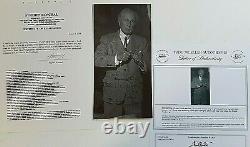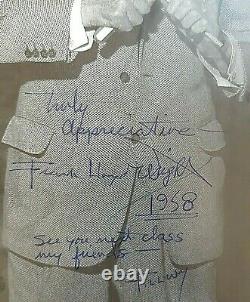 FRANK LLOYD WRIGHT HAND SIGNED 5X10 PHOTO TO APPRENTICE DATED 1958 WITH 2 COA'S. PLEASE TAKE A LOOK AT MY OTHER FRANK LLOYD WRIGHT ITEMS, PART OF MY 43 YEARS OF COLLECTING. COMES WITH 2 COA'S ONE FROM TODD MUELLER AUTHENTICATION, AND A COA FROM AWARD WINNING AUTHOR AND WORLD RENOWN AUTHENTICATOR STEPHEN KOSCHAL. I HAVE PERSONALLY RELIED ON STEPHEN EXPERTISE AS A 3RD PARTY AUTHENTICATOR FOR MANY YEARS.
HE IS SIMPLY THE ABSOLUTE BEST IN CLASS IN THE INDUSTRY. Stephen Koschal is well known as a legendary pioneer in the autograph hobby/industry working with law enforcement on International levels. The following is just one of many testimonials. Department of Justice, Federal Bureau of Investigation.
On behalf of the FBI, I thank you for your assistance in the investigation and prosecution of forger Steve Lyons, one of the convicted subjects in the FBI's Operation Bullpen case. The hours you spent working with Special Agent Timothy Fitzsimmons and Assistant United States Attorney Melanie Pierson were very helpful to the government's case. Your knowledge and professionalism resulted in Judge Jeffrey T.
Miller accepting your trial testimony, after qualifying you as an expert witness in this matter. You should know that in the recent sentencing of Steve Lyons, Judge Miller singled out your expert testimony as very illuminating. In describing the overwhelming evidence against Lyons, Miller noted that even without Lyon's recorded conversations, the government presented a clear case that was clarified through your testimony.
Judge Miller ultimately sentenced Lyons to 36 months in federal prison. I also want to thank you for your continuing assistance to law enforcement in combating memorabilia fraud. I know you have assisted SA Fitzsimmons, as well as other agencies, on other matters and I encourage you to continue in this worthwhile endeavor. The following is what the President of the U. Had to say about me in writing. I want to thank you for doing so much to promote autograph collecting in general and the U. March 3, 1993, Bob Erickson, President, U. Below, you will read statements, from another president of the U.
Who was a member of the Ethics Committee, a V/P of the U. In the past I have been asked to assist all the high profile companies who claim to authenticate autographs. I have also been asked to join their staff but refuse to do so. Because of all the mistakes made by all the authenticating companies, I simply can't afford to have my name placed on their Certificates of Authentication for items I would not see.
The following is a partial grouping of assorted testimonials from both autograph collectors, dealers and autograph authenticators. I, Michael Frost President and lead authenticator of P. Professional Autograph Authentication Services have known Stephen Koschal for over 20 years.
I would consider him as the top autograph expert in the world today. Stephen Koschal's library of autograph exemplars is second to none and I have had the pleasure of using and viewing his autograph exemplar library. Stephen Koschal has written many books and 100's of articles on autograph collecting and autograph reviews and authentication. Stephen Koschal is one of my teachers and mentors when it comes to autograph studies and authentication.
I have spent 100's of hours working with Stephen Koschal as well as reviewing his authentication work. I have always found him to be very professional and one of the most honest people I ever met within the autograph industry. I'd like to meet you. You are one of the few professionals who seems knowledgeable, sincere and reasonable....
Steve, thanks so much for your opinion.... There are few people in this industry I have trust in their judgment like you.....................................................................
Jimmy Spence I really admire your passion in your writings. Thanks for reassuring me, I really appreciate it and sharing your extensive knowledge. I feel that your opinion is more than enough... I respect you and consider you a friend... You're an autograph encyclopedia................................................................................ Steve Cyrkin, Former owner of Autograph Collector Magazine, California.
I love you and admire your energy... I have always looked at you as an honest man and true friend..................................................................................... Roger Epperson, Texas, JSA Authenticator.
Your work may have helped change the certs which now clearly say that only one or more have looked at the item. Thus in some regard you have been part of the solution... Hope your voice changes other policy...
In fact when people ask me about you and your expertise I always give you glowing reports in fact I say that you are among the few left who really knows what he's doing... John Reznikoff, Connecticut, PSA and JSA Authenticator Stephen Koschal- one of the Founding Fathers of Modern Day Autograph Collecting.. One of the finest experts on autographs in the world today...
Anyone who knows Steve well has great respect for his depth of knowledge of autographs and the hobby................................................................................. Bob (Eaton) asked if I could ask you for a favor... Would it be possible for you to type up a general endorsement of our company on your letterhead... As far as we are concerned, you are one of, if not the most respected autograph authorities we know, and it we think it would be quite impressive to have a good word from you about us... I consider you a pioneer in this field-- I have only been involved 5 or 6 years.
Never met anyone as decent and versed as you in this hobby/industry. Always a pleasure to speak with!!! Your experience always brings a smile to my face.... " Richard Simon, Sports Autograph Expert/Authenticator "... He is interested in becoming a certified authenticator.
I hope you don't mind my giving him your name... You can set him straight on what it takes to become an expert... Chris Jaeckel, New York, Walter Benjamin Autographs...
I sit in humble awe-oh great one! Stodolski, New Hampshire, Autograph Dealer You're a good man... A gentleman and a scholar. Jimmy (James Spence) and I needed a second opinion on this Nixon piece, and we would like your thoughts...
We continually seek the advice and council of competent individuals outside our organization in the collectibles market-dealers, auctioneers, collectors-such as you... Michael Haynes, California, Chief Executive Officer, PSA/DNA.
What I really appreciate is the fact that you turn collecting autographs into a science and that is exactly what our hobby deserves... Heinz-Ulrich Kammeier, Germany, V/P, German Autograph Club.
You have a lot of new ideas for promoting our hobby around the world. I and our club are always with you....
We are thankful for your active support to Autograph Peace museum. Our idea is to display the World Peace message duly autographed by the World renowned personalities in the Museum.
I will send you the full details of the Museum soon. The same was schedule to be open this month but are getting delayed due to internal construction work. I think this will be the first such Autograph Museum in the World. We want you to be actively involved with the Museum. In fact we want you to be one of our Honorable Guests to Inaugurate the Museum. If you kindly give your precious consent to inaugurate the Museum then we will open it as per your convenience date. Since our other guest likely to be the Dalai Lama will be in India based so the date will not be a problem for him.
Sending herewith on "Autograph For Peace" card to be autographed by you. Kindly also write some message on "World Peace" and return..... Santosh Kumar Lahoti, Founder Autograph Peace museum, Founder of Autograph Collectors Club of India Steve, thanks for looking out for everyone. You're a breath of fresh air...
Teraoka, La Palma, CA Stephen Koschal is a legend in the world of autographs! Richard Payne, Duluth, Ga" "We have been using (name withheld but one of the two high profile authenticating companies) as third party authenticators. Can you help by examining them... Could you give it a quick look-over and get back to me? I hope all is well with you and I thank you for your last minute help.
Doug Norwine, Texas, Director Music & Entertainment, Heritage Galleries/Auctioneers... Bill (Miller, Autograph Collector Magazine) is a blessing to me. He is truly my best friend and best mentor a person could have. I'm very thankful that through him, I got to know who you are better because he is so honest that I know that when he thinks highly of someone like he does of you, it is dead on target... When someone has done something as long as you have, there is wisdom that many can benefit...
Considering your recent articles, I wanted to bring to your attention an item that I have received several reports about... Unfortunately, the authenticators that advise me on these matters are torn as to the authenticity of this piece. I wanted to bring it to your attention in the hopes that you could shed light on this item... I just wanted you to know I congratulate you on your win.
I was so disgruntled with Herman (Darvick) I chose not to run for V. I'm glad to see you back..
Paul Carr, Maryland, V/P, U. Thanks for the support of the ethics board. It makes life easier with guys like you pulling on the same side of the rope... Word has just reached me that you have resigned from the UACC. If this is true I want to say a few things. One, you are an excellent autograph scholar whose books no one can take away from you. Two, you are an excellent autograph dealer and are welcome at my autograph fairs. Four, you fought the fight with all your strength.
I will remember how you worked to get a bad dealer expelled, regardless of his position in the UACC, and no one can take that from you. If you have chosen to put your efforts where they will bear sweeter fruit, so be it... Michael Hecht, California, President, UACC. This I will press on our members and committee all the UACC not just the UACC UK, Even Bob Erickson (President UACC) agrees with me and it was he who suggested that I ask you to rejoin theUACC... Formally express our firm's sincere appreciation, and the appreciation of our client, Bill Miller on whose behalf you testified in the recent case against Collectors Universe, Inc.
It was quite telling that after I finished my direct examination of you, Collectors Universe's lawyers chose not to ask you one question on cross examination. If we ever need to retain an expert witness in the field of autograph authentication, you will be our first choice...
Albert, Boudreau, Albert & Wohlfeil, LLP Attorneys At Law, San Diego, CA. The hours you spent working with Special Agent Timothy Fitzsimmons and assistant United States Attorney Melanie Pierson were very helpful in the government's case. Miller accepting your trial testimony, after qualifying you as an expert witness in this matter, You should know that in the recent sentencing of Steve Lyons, Judge Miller singled out your expert testimony as very illuminating... I also want to thank you for your continuing assistance to law enforcement in combating memorabilia fraud...
I encourage you to continue in this worthwhile endeavor. Boschen, California, Supervisory Special Agent, FBI.
Your last letter was of great help to me and I enormously appreciate your efforts in trying to stop the forgers, not just of my appraisals, but in every area... Charles Hamilton, New York, World's Acknowledged Authority on Autographs. Seymour Halpern, New York Congressman, Collector. Thank you very much for the interesting and informative signature study of my signature.
I will look into the franking signature situation... Ford, President of the United States. I write a bi-monthly column on books for a local Oregon newspaper, and would like to note this as one of the best Hoover pieces, but would first like an affirmation from an expert like yourself... In every issue I found information on Presidential and First lady autographs....
Your help is very important to me. Bowing in your direction, Stephen, and thanks especially for the quick turnaround. I won't forget the kindness....
I received the Trump book and I have already read it! I think you have made a very deep research, the world of collectors could be thankful to you. Many times I have seen preprint signatures considered as genuine by official writing authenticators.
In this industry, you need to be an autograph expert, not just a writing expert. You need to know the habits of the celebrity. Thank you again for your book and I hope to meet you one time!
Because you have my utmost confidence and respect in your judgment pertaining to the value of precious books and collections, I thought I might impose on our friendship a bit and ask you if you would consider... Certainly I count you in that number! Hatfield, United States Senator, Oregon... I shall do my best to keep this very considerable spark alive. From your story of Julius Caesar to Bogart you had the rapt attention of all.
I was impressed by your preparation, the history of paper.... Katharine Poulton, Florida, Four Arts Children's Library... The good guy award is a good thing...
I nominate you first simply because of all your service to the hobby for all the decades... Trying to help the UACC yet they don't truly thank you... You have led the fight against corruption, against those that sell bad items under the cover of third party scams. You have called out the jokesters... Todd Mueller, Colorado, Autograph Auctioneer... I've done a lot of business with... And he gave you the highest marks as an autograph dealer and good guy... I think you are one of the most knowledgeable and honest authorities on the subject and I think you have done a world of good for the autograph collecting community, would you do me the honor of sending me your signature... Keep up the good work bringing out the less than scrupulous dealers into the light...
You are a fountain of knowledge and the wisdom that only experience can instill... It's not common to find people like you that have a dedication in this hobby for the amount of years of experience you have.
You are truly one in a zillion....................................................................... I have just read your article in the Pen & Quill... Thank you for contributing your remarkable experience with us members of the U.
May I say how very helpful your article is... Which appears in the Pen & Quill.
I would add that I believe it is among the most helpful essays published during my membership in the UACC... Thanks for your continuing efforts on behalf of the rest of us. Again, know of my personal appreciation for all your service to our avocation... Of Georgia took the initiative to recommend you highly to me as not only an expert but as a man of integrity as well... You are one of my most admired persons who had inspired me in my life... May I have a signed picture of you... Just to let you know I received your immediate answer to my request.... I think you're a class act.... May I add a word of appreciation for your excellent article... I fear that, as I read it, I found myself breaking the Commandment which forbids envy!
You have rendered a service to both the neophyte and experienced collector... I hope the enclosed JFK is authentic...
Thanks to you for continuing the good fight. Decent collectors like myself are very dependent on equally decent professionals like yourself... Your willingness to take the time to help a new collector is, unfortunately not universal It speaks well of you and I want to express my appreciation...
Thank you once again Stephen for writing and being so kind. You've restored my faith in people, I thought that all people were out for what they could get. I know now that there are still people who like to share...
Steve Koschal, has discovered that there is quite a market for Ronnie Biggs autographs. Steve is an autograph expert... Ronnie Biggs, Brazil, quote from his book Odd Man Out, My Life On The Loose And The Truth About The Great Train Robbery.
Oh well-you know what a great service I think you do for the collecting community at large.... Bill Butts, Main Street Fine Books & Manuscripts. Keep up the great work... You are the only breath of fresh air out there right now...
Your contributions to the hobby are invaluable... There is not many autograph celebrity experts like you..... Thank you so much for your service... Other than watch dogs like you there isnt anyone protecting this hobby that I love..... Ive been recommending your site to many of my friends who collect historical autographs...
Of all the business experiences I have had in my life the worst part of it has been in the autograph portion, with its fake autographs, crooked dealers, and authenticators who dont know what they are talking about. The worst think that happens is greed takes over and one looses his principals. Keep up the good work....
Again, I love what you are doing, and as someone who recognizes that there are very few of us with knowledge of autographs and the courage to stand up to this crap, your efforts are much appreciated. I can assure you that I will be referring people to your site. As many as I can.... Thanks for your long and tireless efforts to make this a better business & hobby.....
If someone would like to call, if possible Id appreciate it if it could be Steve Koschal... Some of it obviously had great value, as the response from JSA was to pull the lot... Robert Lifson, President, Robert Edward Auctions I told ____at ____ that I was concerned about the autographs being authentic.
I agreed to pay for an independent authentication____said he would reimburse me if they were not authentic. I told ____ I thought you (Steve Koschal) was the best authenticator to get a professional opinion. Great Book (Signature Study of President Donald Trump). You have also cleverly left the field open for you to write a sequel after his presidency. As a long time collector of presidential autographed material, and particularly signed executive Mansion and The White House cards, I've long ben an admirer of yours.
Given that I consider you to be the foremost expert on these cards and also have no doubt that you are an expert authenticator in general.............................................. Steve, glad to see someone honest has gotten into the business of autograph authentication.. Barb Pengelly- The Autograph Lady In the December 23, 2005, Sports Collectors Digest, autograph dealer Stephen Koschal offers his thoughts on provenance. Koschal, who is generally considered the nation's leading authority on presidential autographs, states... Ron Keurajian, Michigan, Baseball Hall of Fame Autograph Expert, Author of Baseball Hall of Fame Autographs, A Reference Guide, 2012.
I have tremendous respect for your knowledge... Thank you for undertaking this work. I'm very appreciative that you are willing to share your lifetime of experience with me.
Bill Scheffler, CT & CA. I personally think you are the best in the industry. I recommend you every chance I have the opportunity to do so. You bring Brilliance to the industry. You have contributed more to the autograph community than anyone in the industry. Received your 3 reference books which joins the many others in my special library. Your works are very precious and useful..... The item "FRANK LLOYD WRIGHT HAND SIGNED 5X10 PHOTO TO APPRENTICE DATED 1958 WITH 2 COA'S" is in sale since Sunday, November 17, 2019. This item is in the category "Collectibles\Autographs\Historical". The seller is "rachelejulian" and is located in Tinley Park, Illinois. This item can be shipped worldwide.
Original/Reproduction: Original
Signed by: FRANK LLOYD WRIGHT
Autograph Authentication: STEPHEN KOSCHAL & TODD MUELLER AUTHENTICATION