Loverboy REAL hand SIGNED Working For The Weekend Sheet Music COA Autographed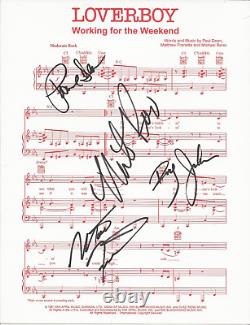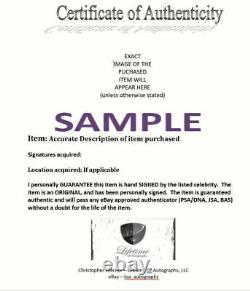 This is a great 8.5x11" cardstock novelty single page sheet music for the song entitled "Working For The Weekend" signed by four members from the hard rock band "Loverboy. Loverboy's hit singles, particularly "Turn Me Loose" and "Working for the Weekend", have become arena rock staples and are still heard on many classic rock and classic hits radio stations across Canada.
Four members of the band including. Mike Reno, Paul Dean, Doug Johnson, Matt Frenette. Have signed this in bold black sharpie. They signed this on April 28, 2017 at the M3 Rock Festival the Merriweather Post Pavilion in Columbia, Maryland. Photo is in great condition.
The signed item will come with a Certificate of Authenticity from Lifetime of Autographs, LLC, which will include all pertinent signing information, a picture of the exact item, and a lifelong guarantee to authenticity. In addition, this autograph is guaranteed to be 100% authentic and pass any other approved authenticator JSA, PSA... Please add me to your favorites!!! Welcome to Lifetime Of Autographs, LLC, the place to go for your authentic hand signed memorabilia. I have been dealing in authentic autographs for 20 years.
Because our signatures will leave you with no question on authenticity and they are real. There are no pre-prints, no secretarial signed, no "stock photo" autographs... The autographed item you get will ALWAYS be the exact item in the scan, no surprises. As I add listings daily, you never know just what I will have to offer.
You will want to check back every couple days! These signatures have been personally collected through decades of research, hard work, and patience by myself, or by a small group of professionals whom I employ and collect with. My vast knowledge of autographs proves that experience is most important in this hobby. If the item has yet to be authenticated, it will come with my personal and well respected COA.
You will not see meaningless COA's from random people, nor photos called proof that are anything but. Don't believe that just because someone has a photo of someone signing or a photo with a celebrity that the autographs they sell are real. Event photos may be shown for added assurance. If you do, I will be willing to price match on Fixed Price listings. The selection of signatures I will be offering is so vast and unique. You will be seeing musicians from every genre of music, actors, models, political names, artists, inventors, businessmen, sports heroes, porn stars, heroes, the infamous, etc. You just never know whose autograph you may find as I have 1000's of certified authentic signatures to list. Items that have not been professionally authenticated have been acquired in person. While my goal with Lifetime of Autographs is to have most autographs authenticated, it is a very expensive process and not always available for newer celebrities/bands.
I stand by my autographs 100% for the life of the item. For the life of the item. My autographs are real and have been acquired through research and years of traveling.
Great care will be taken in packaging your winning item as these items are 1-of-a-kind! After that, we both just need to wait it out and be patient.